It sure has been a busy few months for me; If it weren't for the sun setting at 4 PM and the snow, I wouldn't believe that it's already December. But December it is, and much like my classes this semester, my time at JCALPRO is coming to an end. So, for my sixth and final blog post, I wanted to take one last look at my time here at JCALPRO and see if I can remember where the last 5 months went.
JULY
Despite me just saying "Where did the time go?", I'd be lying to you if I said that July doesn't feel like a lifetime ago. Part of this I know is due to the weather: I remember leaving work at 3pm, the sun still high in the sky, and looking at the thermometer in my car reading 85 or even 90 degrees. Part of this is also due to the fact that now I know my way around the BCEC: The first two days I went to work, I had to stop at Jen and Brendan's office and ask Jen directions to get to where Paige, Maria, and I worked. I may have been to the BCEC numerous times, but I'd never once used the service hallways, and while I sort of felt like Henry Hill entering the Copacabana in Goodfellas, I also felt like I had no idea where I was going. 
Despite this distant, almost mythic past of sunshine and heat, I can still remember my first show. At the time I called it ICSC, but I now know that it was called the 2019 New England Conference hosted by the International Council of Shopping Centers (ICSC). It was a small show, but it was a good show to cut my teeth learning how to take pictures for events in the BCEC.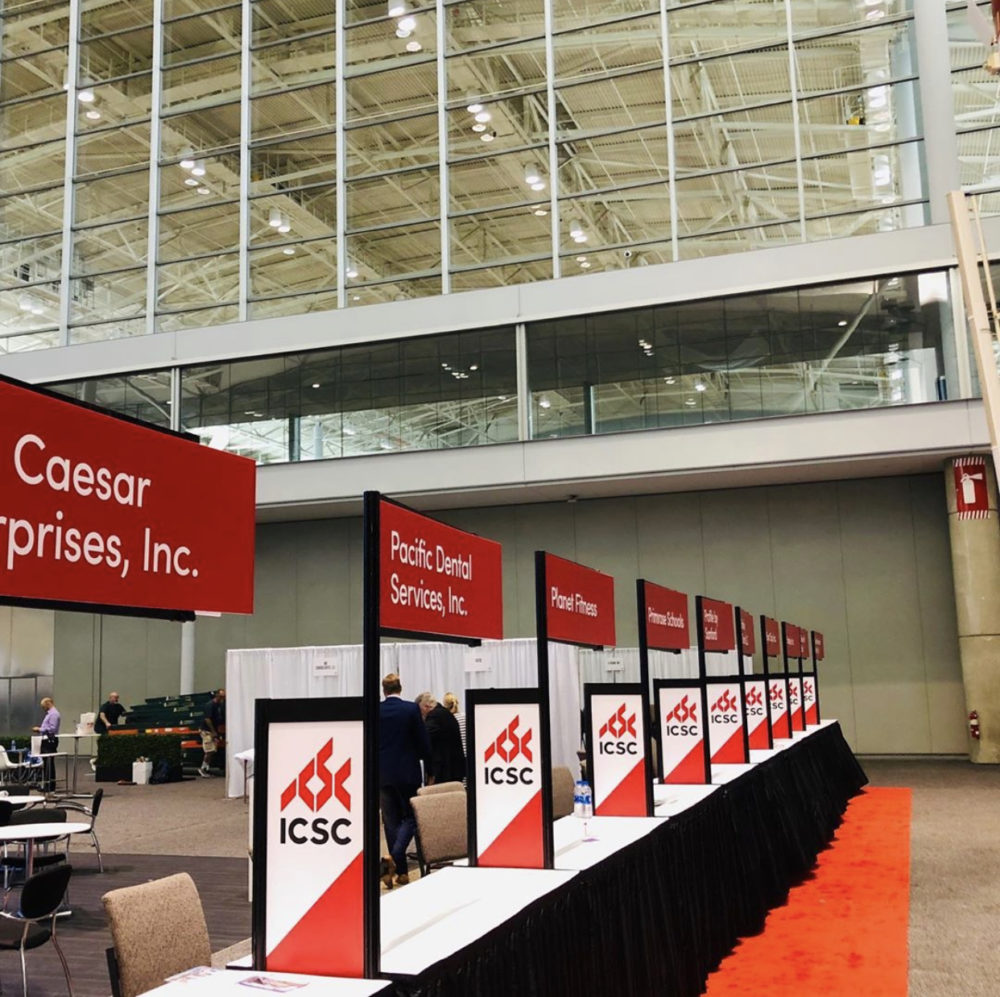 It was also at this time that I started learning the ropes of working in the office: How to answer the phone, how to file and/or shred documents, how to use excel (a program which I'd never used before starting at JCALPRO), and more. It was a lot at first, but as time went on things got a little easier. 
AUGUST 
August is where I felt like I started getting into the swing of things. There were more shows both in the BCEC and at the Hynes, but the one that stands out in my mind the most was NACDS. When I first started, a lot of my time was spent getting prepared for NACDS. If I wasn't reading emails from the exhibitors trying to figure out what they needed to set their booths up, I was adding those booths to the Load In-Out schedule, finding their diagrams to add to our folder, or making sure that those diagrams matched up with the order they placed. It was a lot of work to make sure we were ready, so it was pretty exciting to see all the booths slowly start coming to life on the exhibit floor. 
NACDS was also the first show I worked at the service desk, and it was quite an experience to watch the booths I'd been reading so much about finally be built and ready to open. For that whole week, if I wasn't at the service desk answering questions for exhibitors, I was walking the floor to either take pictures or check on the progress of a booth's construction. During the summer I worked Tuesday/Wednesday/Thursday, so I didn't get to actually see the show close, but I did get to comeback the following Tuesday and see the remaining few booths get taken down. It was a little sad to see everything go, but I couldn't help but be impressed at the skill of all the workers who, in just over a week, both built and dismantled the entire show. 
SEPTEMBER
There were two big events in September. The first was Inbound, a show that somehow managed to match the awe I had for NACDS. It may have been a smaller show, sure, but what it lacked in square footage it more than made up for with stellar production design and quite a few big name keynote speakers like Journalist Katie Couric, Author Elizabeth Gilbert, and Film Producer Jason Blum, to name a few. 
The second big event was when I started my final fall semester at Northeastern. Instead of working Tuesday/Wednesday/Thursday, I started working Tuesdays and Fridays, and instead of only working nine to three, I worked from nine to six. It was a bit difficult at first trying to balance school, work, and extracurricular activities, but I soon found a good rhythm that I managed to maintain for most of the semester. 
OCTOBER & NOVEMBER
October & November might have been a bit slow due to the beginning of the holiday season, but there were a few standouts that kept things from getting stale.

October had Association for Financial Professionals (AFP) 2019 Annual Conference, another big show at which I worked at both the booth and on the floor, giving me plenty of time to take in all the booths, both big and small.
In addition to AFP, the BCEC also held the annual Pumpkin Wars, wherein workers from the BCEC's many departments competed for the title of Best Pumpkin. JCALPRO may not have come home with the title of best pumpkin, but we had a strong contender in a field of pretty stiff competition. 
November was a little slower than October, what with thanksgiving and all, but I did get to go back to the Hynes one last time to cover PRIM&R Advancing Ethical Research Conference, which was probably one of the most interesting shows I got to cover this year. 
DECEMBER
And now we've reached the end. In preparation for today, I decided to take a look at Greg Westhoff's last blog post, and I can't help but find it funny to see how our paths diverged. As a spring-semester co-op, his time at JCALPRO ended at the beginning of summer, with sunshine and warmth, whereas my co-op ends at the beginning of winter, with the aforementioned 4 pm sunsets and snow. His co-op ended with him moving from public transit to his own car, whereas mine started with me driving my own car and moving to public transit as I went from commuting an hour to Boston to living in the heart of the City on Northeastern's Campus. However, I think it's safe to say, despite our differing circumstances, that we both learned a lot from this co-op. When I started here, I didn't know what a truss, Leko and Par4, or Cheeseboro were. Now, I know that a truss is an aluminum structure we build out to, among other things, hang signs and lighting fixtures, and that a Leko offers a more focused beam of light than a Par 4, whose light covers a larger area, and that cheeseboro connects two pieces of truss together. I know how to transfer a call, file documents, create a spreadsheet, and use bill.com, among other things. 

I owe all of this knowledge to my co-workers Maria, Paige, Brendan, Jen, and Ashley, all of whom I'll miss greatly. I'm glad I took this co-op at JCALPRO, partially for the experience of it all, and partially for getting to work with such great people, but my time here has reached a close. Earlier today, I finished filling out my application to graduate from Northeastern, and if everything goes to plan, I'll have a Bachelor's Degree in Game Design on May 1st, 2020. 

And that's it from me! Happy Holidays everybody!