The Penny Arcade Expo (PAX) first started in 2004 in Bellvue, Washington. It was a 2 day event that had many big exhibiting companies such as Warner Bros, Ubisoft, and Microsoft. PAX has occurred yearly since then and has doubled in size each year until venue capacities have maxed out. In 2010, a new segment of the expo was added here in Boston. This segment became known as PAX East and the one in Washington became known as PAX Prime, since it was still the prime location. Not until 2015 did PAX Prime change their name to PAX West. PAX has later included other segments as well such as PAX Dev, PAX Australia, and PAX South.
PAX Features
Each year PAX has been around it has focused on 6 main areas. These areas include freeplay, tournaments, the expo hall, concerts, panels, and the Omegathon. Freeplay allows attendees to freely play any games in the PAX library. This year there will be a tabletop freeplay, a console freeplay, and a VR freeplay. PAX also has many tournaments that attendees may participate in. There is a different tournament every half hour so each attendee is bound to find a tournament they would like to participate in.
PAX Main Event
The Penny Arcade Expo also has an expo hall where exhibiting companies can set up and show off their products to potential customers. The expo hall is usually the largest part of the show that draws in different gaming companies from around the world. Attendees can walk the show floor and explore the new offerings from big companies such as Nintendo, Xbox, or Facebook. This year the expo hall will have nearly 400 exhibiting companies to make sure there is something for gamers of all kinds.
PAX also includes other events in order to keep the attendees interested at all times. PAX will often put on concerts and hold panels to further inform attendees of valuable gamer development information. Some performers that will be there this year are Bit Brigade, The Double Clicks, and Video Game Orchestra. They are all producers of music that are able to incorporate video games into their sound. There will also be panelists that will offer valuable tips to anyone that wishes to develop their own content or just become a better gamer in general.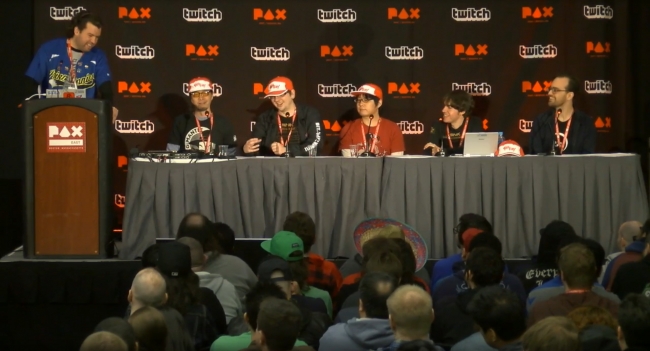 Omegathon
The last big event that has been with PAX since the start of it all is the Omegathon. The Omegathon draws in advanced gamers from around the world as well as a crowd of avid gamers to watch. The Omegathon is one big tournament that spans over the entire expo. The tournament starts with 16 teams of 2 players that call themselves Omeganauts. The competitors are chosen at random prior to the expo. The teams must battle against each other in games of all platforms and genres until there are only two teams left. They will then be placed against each other for the finale to determine the ultimate Omeganauts. The winners are always rewarded a pretty substantial prize. Some past prizes have been a free trip to any other PAX in the following year or a free trip to an even bigger game show in Tokyo with all expenses paid. One year they even rewarded the winner with a brand new car. The Omegathon is a very big part of the expo for many attendees and for these reasons it attracts gamers from all over.
The first ever Penny Arcade Expo to take place resulted in an attendance of about 3,300 persons. Each year the event has continued to grow larger and larger. In 2010, when the first PAX East event occurred, it resulted in about 52,300 persons in attendance. This year, PAX East is expecting to result in more than 80,000 attendees. With technology and gaming constantly advancing, there is no sign of any slow down for PAX in the near future. The event should continue to get larger and larger just as the gaming community continues to grow year after year.