My name is Josie and I'm JCALPRO's current co-op student from Northeastern University.  It didn't take me long after starting here to realize I had a lot to learn about JCALPRO.  "What made you realize?" a person from my non-existent audience yells out. Well, while filing papers during my first week at JCAL some casually titled folders caught my eye: "Beyoncé," "One Direction," "Luke Bryan."  What on Earth had this place been getting up to over the past 13 or so years?  I poked around on JCAL's website and talked to some of the staff – here are some of the most notable JCALPRO jobs that I discovered.
---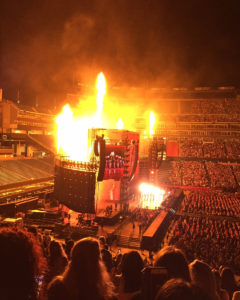 Beyoncé at Gillette – It's Beyoncé, need I say more? Of course not, but I will anyway because that's just the kind of person I am.  Dozens of JCAL's crew headed over to Gillette to help construct the stage that Beyoncé herself would perform upon.  The set included multiple screens, speakers, and- naturally – flame throwers.
The New England Autoshow – If you're a celebrity looking for a unique baby name with the hopes of giving your child a fighting chance at the spotlight amongst all the other uniquely named celebrity babies, look no further than the New England Auto Show roster: Porsche, Audi, Chevrolet, Bugatti, Bentley, Lamborghini, Volkswagen, Toyota, Aston Martin, Kia, Subaru, Acura, Genesis, Lincoln, Rolls Royce.  If you are neither a celebrity nor on the quest for a unique baby name, you can just take this for what it is: an AWESOME display of hundreds of AWESOME cars, all brilliantly arranged inside the Boston Convention and Exhibition Center.  JCAL is responsible for hanging any and all things that exhibitioners may desire: someone wants a car hanging from the ceiling? They get a car hung from the ceiling.  And no, that's not hypothetical.  JCALPRO has successfully suspended a car.  Unfortunately it was reported that there was no candy inside, and guests were advised not to swing at it with a bat.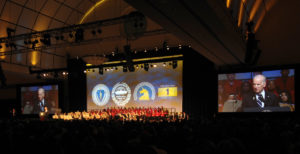 Boston Marathon Tribute – JCAL's most notable events aren't solely those filled with flare and celebrity.  In 2014, JCAL helped rig the Hynes Convention Center for the one year anniversary Boston Marathon Tribute.  It's impossible to imagine an event that could hold more weight or significance than this one, which called all to remember a tragedy that was so close to home for Boston, and so many of JCAL's team members.  Joe Biden came to speak to the 2,500 person audience, including families of those who had died in the attack. "People know all about you," he told the crowd, "They know who you are.  They know your pride.  They know your courage."  The executive director of the Boston Athletic Association also spoke at the event, sharing what he sees as the meaning behind Boston Strong: "[it means] to be borne on by an inner and enduring strength, and it means, above all, that we never, ever give in to anything."  Hanging up a screen doesn't feel like much, but contributing to an event that reminded so many Bostonians that Boston will never be reduced to anything less than one of the greatest cities in the world can't not be incredibly meaningful.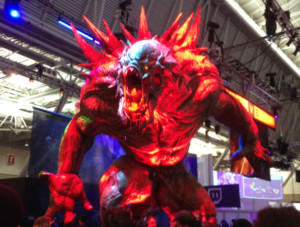 PAX East 2014 – Once every year, the Boston Convention and Exhibition Center is loaded up with the year's most talked about video games. If you can dream it up, you can find it at PAX East. Or better yet, if it's something you've never even dreamed of, you can find it at PAX.  From monsters to heroes to the staff of Cards Against Humanity taking card recommendations from guests, you could find it at PAX East 2014.  Now add an enormous statue of Evolve's Goliath monster to that list, made possible by JCAL's rigging team. Thank goodness, right? Where would we be without a giant monster statue in the middle of the convention center?
PAX East 2016 – PAX East took no time off with the extra-ness of their displays, so neither did JCAL.  In 2016, JCAL's crew hung an enormous blimp above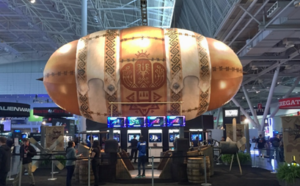 the Monster Hunter Generations booth.  In a room filled with handfuls of life-sized Battleborn character statues, a 16-foot tall Tyrannosaurus Rex that guests were not only allowed but encouraged to ride (disclaimer: no T-Rex's were harmed in the making of this convention), and hundreds of glowing screens, this blimp was still described as "a dominating sight."
LiveWorx 2017 – At the 2017 LiveWorx convention – a convention designed around industrial technology and all whom that may concern – JCAL's production team just, you know, built your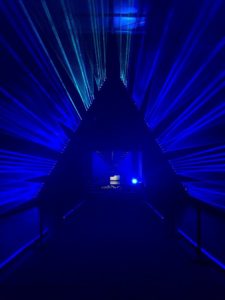 good ole' everyday LASER TUNNEL. The Convention Center was transformed into a dark chamber aglow with only neon beams of light.  Looking at photographs of the event really brought me back to my days of middle school laser tag parties, where your first concern was getting invited and your second concern was being on the same team as either your best friend or your crush.  All in all it was a stunning display, and it seems to be getting better and better every year.  I can only imagine what LiveWorx will come up with this year.
Hubspot 2016 (and like… EVERY other year too) – Two-dimensional logos who?  At Hubspot's 2016 Inbound event – an event built around promoting Hubspot and introducing guests to Hubspot's software product – JCAL's team built a three-dimensional Hubspot logo out of inflatable orbs and pieces of truss – and then of course hung it from the ceiling (I'm starting to realize that that's kind of our thing).  Fast forward a year to the 2017 Inbound: JCALPRO hangs a screen.  No big deal, right?  Just a screen, nothing you can't find at the local out-of-business drive-in movie theatre.  Well what if I told you it was a huge screen, and that Michelle Obama sat on stage in front of that screen and spoke to guests.  Inbound '17 also reminded everyone that you're never too old for swings – at least not if JCAL can help it.  The team built truss frames and hung a dozen hammock-esque swings, perfect for people of all shapes, sizes, and productivity levels.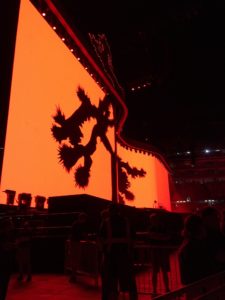 U2 at Gillette – In 2017, JCAL's production team helped construct a massive LED video wall as the backdrop for U2's performance at Gillette Stadium.  What made this wall so uniquely impressive was that it was made up of hundreds of individual squares; this means the wall didn't merely have to be hung up, but had to be put together piece by piece.  On the flip side of that, the wall also had to be taken apart piece by piece.  The visual effect of the curved and fragmented wall definitely made the work worth it, I'd say, but I'll let the JCAL team speak for themselves.
Wheel of Fortune – In 2009, JCALPRO was behind all of the rigging of 15 Boston themed episodes of Wheel of Fortune, which were held right here in the Boston Convention and Exhibition Center.  Having JCAL's work featured on national television is cool enough, but on top of that we received a shout out from the show – they spelled out 'Thank you JCAL Productions' on the puzzle board.  Getting a personalized shout out on a show that averages 30 million weekly viewers is a pretty big deal, if you ask me.

---
And stay tuned for more articles to come!  I hope this helped paint a picture for you of what it is exactly that JCALPRO does. It definitely made me excited for my time here because, quite frankly, knowing what JCALPRO has done taught me one thing: you never really know what JCALPRO is going to do next.
Josie
---
Sources:
https://www.google.com/amp/s/amp.theguardian.com/world/2014/apr/15/boston-first-anniversary-marathon-bombing-tributes
https://www.pastemagazine.com/articles/2016/05/the-best-booths-from-pax-east-2016.html
http://www.vgchartz.com/article/254813/evolve-has-a-monster-showing-at-pax-east-2014/
http://www.livedesignonline.com/blog/jcalpro-provides-production-and-rigging-wheel-fortunes-boston-debut
http://acrossthefader.biz/archives/12450
http://www.academylighting.com/lighting-designers/jeff-engel/photos/