The first time I ever ventured into the Boston Seaport area was for my interview with Maria and Jen – my now co-workers! Now that I'm a little more familiar with the area, I can't believe I spent a whole year in Boston without coming down here.  There's an endless number of attractions and things to do in the Seaport, so I've put together a list of some of the most notable! I hope this inspires you to get down here and have some fun – sooner rather than later!
The Boston Convention and Exhibition Center
Okay, so I'm little bias, but I think anyone who has attended an event at the convention center would agree with me on this one.  No matter what you're interested in, the center will eventually have something that excites you.  Sports? Boats? Cars? The environment? How about food? Videogames? Technology? Michelle Obama? If none of these sparked your interests in any way whatsoever, please enter the following symbols to prove you're not a robot. Now that you've confirmed you're not a robot, I'd like to encourage you to come see an event even if you're not sure you'll love it.  For example, I'm far from considering myself a car person, but the car show was actually AWESOME – I guess there's something fascinating about staring at beautiful cars you know you'll never be able to afford.  Our next convention is the New England Seafood Show, and even if you're no seafood connoisseur, you should still come down and check it out! Disclaimer: I've been staring at the screen for 5 minutes now trying to come up with a clever ocean pun.  I've got nothing, so I'm going to do everyone a favor and just give the puns a break for a second.
The Lawn on D
I think the convention center alone is enough reason to come down to the Boston Seaport, but alas I continue.  Sitting shoulder to shoulder with the convention center, the Lawn on D offers fun stuff to do around the clock once spring has officially sprung.  It's a versatile venue: it can hold anything from exercise classes and corporate events to concerts and backyard games.  And of course, there are the famous light-up swings.  The Lawn on D is fun for just about anyone – families, couples, college students.  At the bare minimum, you'll find plenty of opportunities for an instagram or facebook post down at the Lawn on D.  Granted my bar is lower than most, but I'd consider that worthwhile.

The food
There are dozens upon dozens upon dozens of places to eat in the Seaport area – even if you're a vegetarian like me! (Sorry, I had to mention I'm a vegetarian.  It's in my being-a-vegetarian contract).  We've got seafood (it would be weird if we didn't), Italian food, Chinese food, steakhouses, Indian food, mediterranean food, bars, and lounges.  From chains like Shake Shack, BY Chloe, Sweetgreen and Chipotle, to unique niche locations like Pastoral ARTisan Pizza, Kitchen and Bar, Oak and Rowan, and Row 34, you're promised to find what you're looking for if you come to the Seaport District, no matter how specific.
The coffee
The BCEC is basically located at the center of a crop circle of Dunkin Donuts – there are six within a one mile radius from the convention center, the closest one being less than 0.1 miles away.  Here at JCAL we're on a nickname-basis with Dunkin Donuts – we call him "Dunks," and he's always there to help us get through the day.  There are also five of these little random coffee shops within a mile of the convention center – I think they're called "Starbucks" or something? Do with that information what you wish; personally I could never cheat on Dunks.  I like being able to sleep at night.
The Harborwalk
The Boston harborwalk covers 43-miles of Boston's shore, and a chunk of those 43-miles is in the Seaport area.  The walk connects the city's many neighborhoods to its shoreline. 10-mile stroll to the convention center, anybody?  The harborwalk is the source of a few really cool group event, such as a beer tour, a biking tour, a food tour, and a history tour.  By the Faneuil hall area of the harborwalk you can find some very talented street performers,  and by the Boston Harbor hotel you can catch an outdoor movie on Friday nights when the weather gets warmer.
The Nightlife
If you:

Are a vampire who can only leave their house when the sun goes down.
Need new places to post on social media from so your ex will think you're thriving.
Are an up and coming nightlife critic about to start an article titled "Seaport Nightlife"
Are just a normal human looking to have some fun after work, then the Seaport District is your perfect fit.

The Seaport District has some insane bar venues and nighttime entertainment locations.  Take Lucky's Lounge as an example; it's an intimately sized roaring-twenties themed bar with a menu that might as well be titled "Drunk and Hungry." I'm talking BLTs, pulled pork sliders, burgers, parmesan fries, nachos, and any other jumble of syllables you could ever throw in the bartender's direction.
If you prefer to lounge in locations that appear to have been taken straight from Wolf of Wall Street, then I highly recommend the Lookout Rooftop Bar.  Located at the top of the Envoy Hotel, it allows guests to see out over the city and the harbor.  I mean come on, look at that view!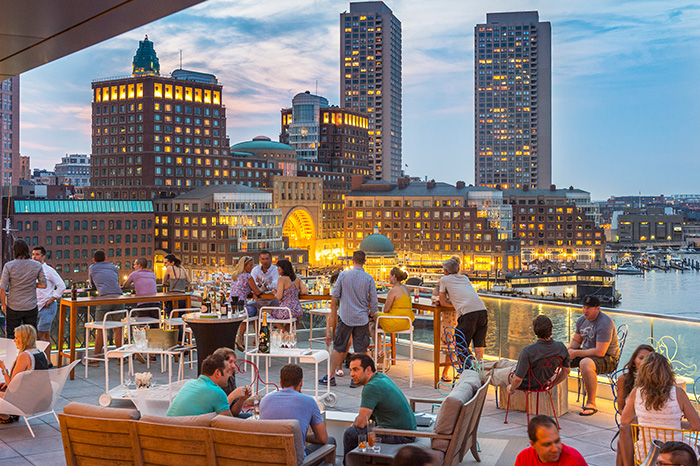 What's that? One rooftop bar isn't good enough for you, you say? Well you'll be pleased to know that the Seaport District has not just one but four more rooftop bars – The Sky Lounge, YOTEL Boston's rooftop bar, Legal Harborside and The Whiskey Priest.  Any mathematician knows that comes to a total of five rooftop bars.   "There are five rooftop bars" cancels out any excuse a person could ever have for not coming to the Seaport Area.  That's just scientific fact.
Hubway
Hubway is Boston's city wide bike rental service.  Anyone can rent a bike from the Hubway, at only $8 for a 24 hour rental! There are two hubways located in the Seaport area, and one of these two is right next to the Lawn on D.  I see it like this: why deal with busy, sweaty, sticky public transport when you could roll around peacefully on a bicycle with the sun on your face, the breeze in your hair, and Over the Rainbow sounding out from all around you like something out of a Nora Ephron movie?  I mean, maybe it wouldn't be exactly like that, but close enough, right!? There's something therapeutic about a nice long bike ride, so you might as well make it a nice long bike ride down to the Lawn on D!
The culture
The Institute of Contemporary Art, The Boston's Children Museum, The Boston Tea Party Ships and Museum, and the Boston Fire Museum are all located in the area.  Three museums and an institute? You'll basically be a Harvard grad after a day in the Seaport – just, you know, minus the part where you attend or graduate from Harvard.
Find ICA prices and hours HERE.
Find Boston Children's Museum prices and hours HERE.
Find Boston Tea Party Museum prices and hours HERE.
Find Boston Fire Museum prices and hours HERE.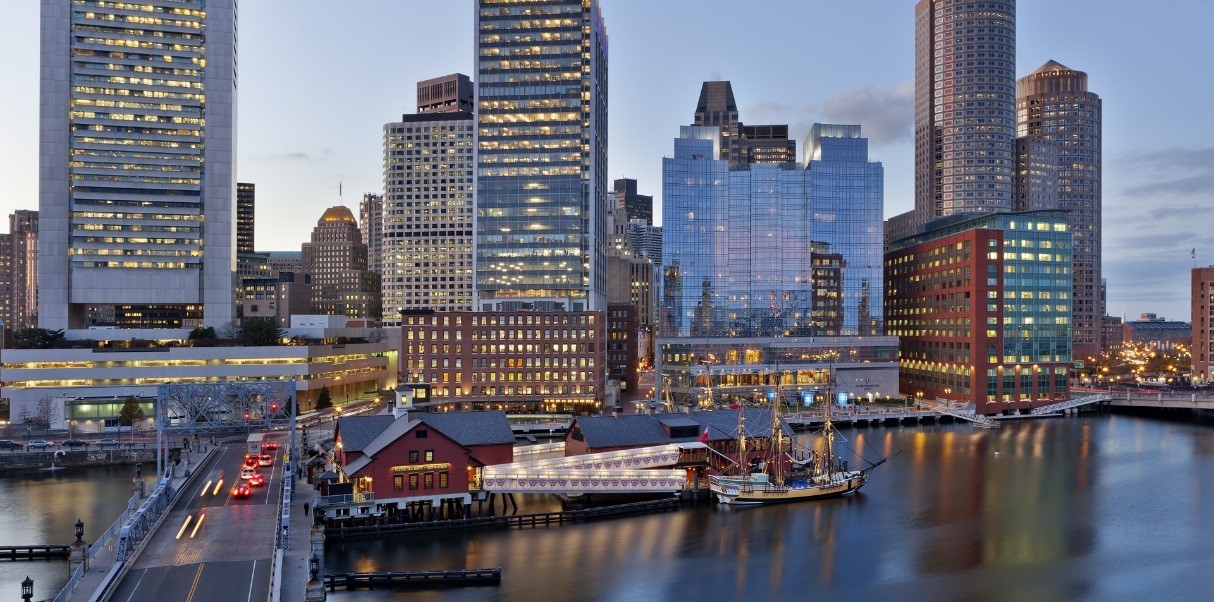 Cruises
There's a handful of cruise companies that launch out of the Seaport docks.  The boats do anything from Easter Lunch cruises to Sunset cruises to weddings to booze cruises.  The boats come equipped with a DJ, a dance floor, and games (one being giant Jenga).  Moral of the story is: the Seaport party never stops – on or off the water!
I hope now you feel motivated to take a spin around the Seaport District, whether or not you've been here before.  It's easily accessible by car, plane, train, or bike (as mentioned) and with the weather only getting warmer and the global water levels only getting higher, there's never been a better or more urgent time to get down here and enjoy everything this slice of Boston has to offer.